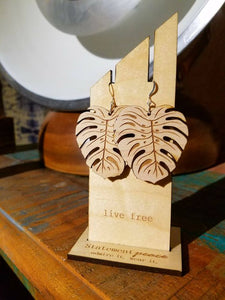 Inspired from the Monstera plant, these earrings are a boho dream! Super light weight with Sterling Silver hardware .Every piece of Statement Peace jewelry comes with its own custom wooden display so you can showcase and manifest positive vibes everyday. A Statement Peace envelope or box is included making gift giving a snap!
Details at a glance:
White oak boho plant vibes earrings

Sterling silver posts
Wooden display included
Do not wear in the shower or in the water
The Statement Peace Vibe
We design, create and hand produce all of our "pieces of peace" in our South West Florida studio. Our love for sustainability is our epicenter and we invite you on our journey.
We consider each piece of jewelry to be a work of art that offers the kind of uniqueness the world has been seeking. We convey this by including a custom designed wooden display stand with each piece purchased. Statement Peace is who we are. Admire it, wear it is our brand motto. Whether a gift for yourself or someone else, the sentiment will always remain.
We at Statement Peace believe when you operate out of peace and love it is felt by all. We also believe that energy is transferable. With every piece of peace we create we transfer our passion, high vibrations and good juju with the intention that you feel our vibes. Gravitate. Vibe. Repeat.
Giving Back
Statement Peace works with One Tree Planted donating 1 planted tree for each piece of jewelry sold.