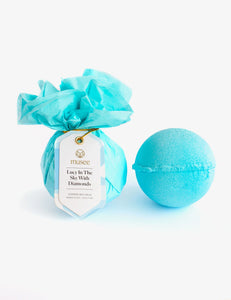 Imagine yourself in a boat on a river with tangerine trees and marmalade skies.  Lucy in the Sky with Diamonds is a dreamy and heavenly balm with a little bling at the end.
Details at a glance:
Musee Bath Lucy in the Sky with Diamonds Bath Bomb
Bright and fun packaging
Surprise diamond trinket inside

Ingredients: Sodium Bicarbonate, Citric Acid, Almond oil, grapefruit, geranium and chamomile essential oils, Fragrance oil. Coloreze




Handmade in the USA

Ethically sourced ingredients

8 ounces

Paraben free, sulfate free, cruelty free
About Musee Bath:
Musee makes handcrafted, natural bath products in Madison County, Mississippi with the mission of restoring lives by providing dignified work for vulnerable people in our community. We primarily hire women in recovery, people with disabilities, and people who have lived in chronic poverty. Our products are handmade in the USA with ethically sourced, natural ingredients. Our bath balms are cruelty-free, paraben-free, and sulfate-free and safe for all skin types.