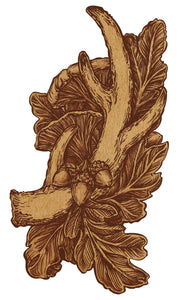 Printed on rich kraft paper, our Forestry Story sets a moody tone for your fall tables. The monochromatic look adds a sophisticated edge to your settings, and with a table accent that works in multiple directions, the possibilities for your table are endless. Our accents are great for writing guests' names or scattering down a table.
Details at a glance:
Antler table accents

Printed on heavy stock kraft paper

Set of 12


Measures approximately 5: x 9.75"