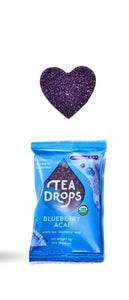 Meet Blueberry Acai!
Our Acai Blueberry Tea is the fruity flavor of the family. If you like it ice-y, our Blueberry Acai will keep you refreshed all day long.
Some sediment at the bottom of your cup is expected and drinkable. Lightly sweetened with organic cane sugar.
 Details at a glance:
Tea Drops Blueberry Acai

Sweet and fruity

Caffeine level - low
Lightly sweetened with organic cane sugar

Tea Drop in recyclable branded single serve packaging

Nutritional Information: 

Calories: 25, Total Carb: 4g, Sugars: 4g

Organic
Ingredients: White Peony Tea, Organic Wild Blueberry Powder, Organic Acai Powder, Organic Raw Cane Sugar. 

Why we love this company!
Tea Drops is a women owned and operated, fair-trade, eco-friendly, and socially conscious company. Through their partnership with The Thirst Project they have donated enough clean water to support over 140,000 individuals and counting. Good stuff, y'all!