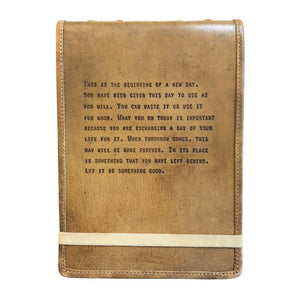 Heirloom quality leather cover journal with handmade paper. Quote on cover:
THIS IS THE BEGINNING OF A NEW DAY. YOU HAVE BEEN GIVEN THIS DAY TO USE AS YOU WILL. YOU CAN WASTE IT OR USE IT FOR GOOD. WHAT YOU DO TODAY IS IMPORTANT BECAUSE YOU ARE EXCHANGING A DAY OF YOUR LIFE FOR IT. WHEN TOMORROW COMES, THIS DAY WILL BE GONE FOREVER. IN ITS PLACE IS SOMETHING THAT YOU HAVE LEFT BEHIND. LET IT BE SOMETHING GOOD.
Details at a glance:
Large leather journal - This Is The Beginning

Features quote on top cover
75 sheet of handmade unlined paper
Elastic band at bottom to keep everything in place

**NOTE: Due to the natural hide of the leather used for our products, natural markings are to be expected. Keeping the imperfections make the leather fibers stronger and more durable. The paper will also vary in color and all journals are handmade and will be different.