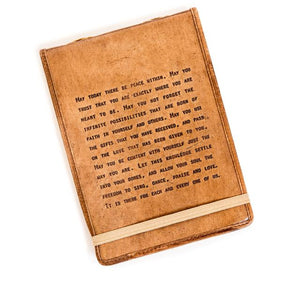 Heirloom quality leather cover journal with handmade paper. Quote on cover:
MAY TODAY THERE BE PEACE WITHIN. MAY YOU TRUST THAT YOU ARE EXACTLY WHERE YOU ARE MEANT TO BE. MAY YOU NOT FORGET THE INFINITE POSSIBILITIES THAT ARE BORN OF FAITH IN YOURSELF AND OTHERS. MAY YOU USE THE GIFTS THAT YOU HAVE RECEIVED, AND PASS ON THE LOVE THAT HAS BEEN GIVEN TO YOU. MAY YOU BE CONTENT WITH YOURSELF JUST THE WAY YOU ARE. LET THIS KNOWLEDGE SETTLE INTO YOUR BONES, AND ALLOW YOUR SOUL THE FREEDOM TO SING, DANCE, PRAISE AND LOVE. IT IS THERE FOR EACH AND EVERY ONE OF US.
Details at a glance:
Large leather journal - May Today There Be Peace Within

Features quote on top cover
75 sheet of handmade unlined paper
Elastic band at bottom to keep everything in place

**NOTE: Due to the natural hide of the leather used for our products, natural markings are to be expected. Keeping the imperfections make the leather fibers stronger and more durable. The paper will also vary in color and all journals are handmade and will be different.